Quick-Check Tension Meter
The Dillon Quick-Check tension meter is the premier innovation in the cable tensioning industry. Nothing comes close to the absolute simplicity of design and accuracy. It is ideal for cable guardrails, guy lines and overhead wires. The digital load cell is rugged, highly repeatable and accurate.
The Dillon Quick-Check tension meter can be placed on a cable, measure its tension, and removed in under five seconds. There are no complex lookup tables or conversion charts – saving time and money. The Quick-Check tension meter can be employed in many industries requiring proper and provable tensioning. Typical applications include:
Cell towers
Stack guy wires
Pre-tensioned cable barriers
Bridges
Elevators
Winch rope
Overhead electric transit wires
Fall arrest systems
Aircraft arresting cables
Utilities
The operator can quickly select from 20 pre-calibrated wire sizes and types stored in Quick-Check's memory. The Quick-Check tensioning mode graphically displays the current and target tension control limits for extremely quick setting of line tension. Even the infrequent battery changes are quick.
Download the Wire Size Library Chart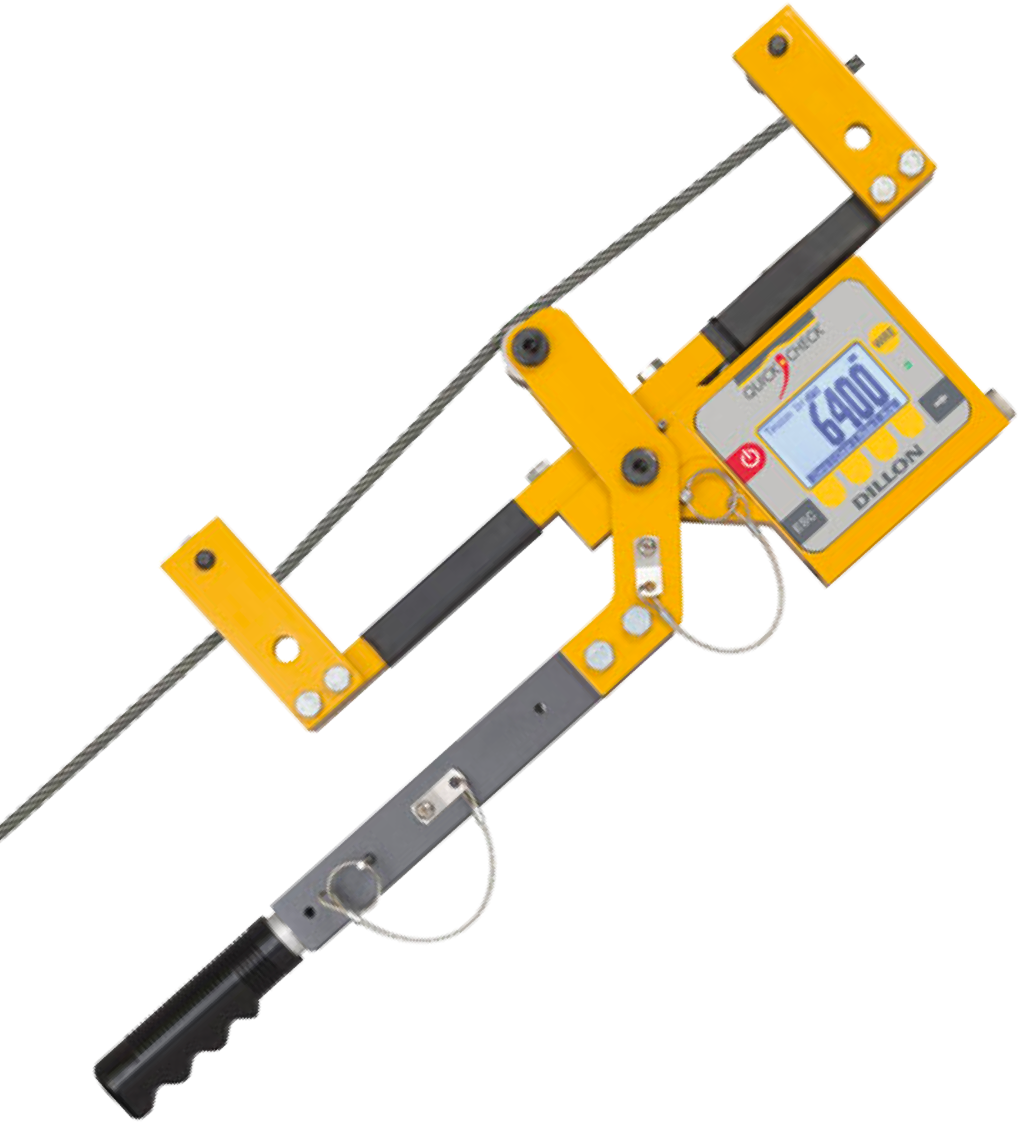 Specifications
Capacities
2000 lb/10 kN/1000 kg 10,000 lb/45 kN/4500 kg
Wire Calibrations
Up to 20 wire calibrations
Modes
Live tension, Dual peak, Average, Check tensioning & Store
Capture Rate
10Hz, 100Hz & 1000Hz
Accuracy
+ 3% instrument capacity
Test
BIT test enabled
Operating Range
-4° F to 158° F (-20° C to 70° C)
Protection
Hard polymer storage case included
Environmental
Suitable for continued outdoor use
Weight
11 lb (5 kg)
Range
Wire sizes from 3/16" (4.75 mm) up to 1.0" (25.4 mm)
Memory
Up to 255 logs
Units of Measure
lbf, kgf & Newtons
Resolution
Low / med / high (5000 resolutions)
Data Export
RS232
Battery
2 x AA battery's with 120+ hours life (backlight off )
Calibration
Each wire rope is calibrated and is traceable to the National Institute of Standards and Technology. Certificate included with curve readings. Passes only with three consecutive confirming runs, with all points in specification.
Size
10 x 23 x 3" (25 x 59 x 8 cm)
Recalibration
Every 12 months
Why the Quick-Check Tension Meter?
Store wire rope readings and export data (Ideal for tower data collection)
Time saving check-tensioning mode
Portable and rugged – Designed for outdoor use
Built-in averaging saves time and eliminates errors
Factory calibrated for up to 20 unique wire sizes and types
WHO NEEDS A Quick-Check Tension Meter?
Rail & Metro & Zip Lines & Climbing
Product Resources
These resources help you get the most out of your Dillon product. Can't find what you're looking for? Contact Us